Glass Enclosures
CT Shower & Bath designs, fabricates and installs all types of glass enclosures. We have over 25 years of experience in designing and installing the most complex configurations. Installations of all glass enclosures are performed by our associates. We service our enclosures long after the warranty period has ended.
Custom Frameless Enclosures
All of our frameless shower doors are cut to your exact opening which provides a perfect fit. We offer several style and finish options for hinges, handles and towel bars. A frameless enclosure blends with every décor and makes the room and shower feel larger. The latest in frameless sliding doors eliminates the majority of metal that traditional sliding doors have, a perfect option for tight spaces.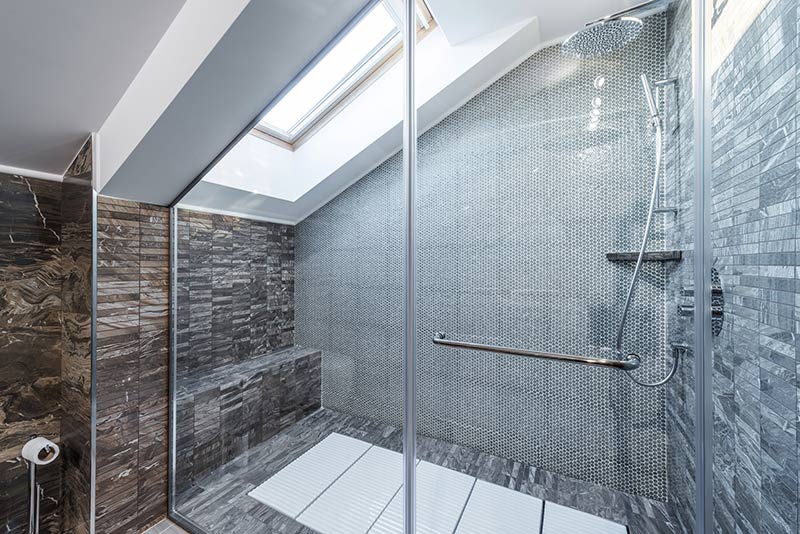 Semi-Frameless Enclosures
A blend of framed and frameless, semi-frameless enclosures provide the clean lines of a frameless glass door with metal structure supporting the panels. Options for handles through the glass are extensive.
Whether you are looking for a value oriented hinged door option or a specific design element, like matte black finish, a framed shower enclosures may be just the solution. Also, framed sliding doors are much improved from years past, flat aluminum thresholds have replaced the tough-to-clean tracks.
Guardian ShowerGuard – Stop corrosion before it starts. Bathroom glass has many enemies. Hard water, heat, humidity, soap and cleaning agents can corrode glass surfaces and dull their appearance. With ShowerGuard coated glass, homeowners can protect their shower enclosure for years to come. While spray-on treatments eventually wear off, the protection of ShowerGuard coated glass never needs to be reapplied. And unlike other so-called permanent protection products, ShowerGuard coated glass is backed by a robust lifetime limited warranty.